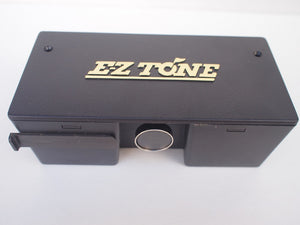 This is one of the most popular and reliable door chimes in America: popular with national chains, independent stores, and professional offices. Made in the USA, NOT made in China. 
Emits a soft tone whenever a door is opened. It is ideal for small to medium-sized stores and offices. The unit can be easily installed by mounting it on the door frame and attaching a small magnet to the door. When the door is opened, the alert produces a non-threatening sound. This alert device is particularly useful for doors that are usually kept closed.
Features Include:
American Made

Maintenance Free

Magnetic/mechanical operation

It sounds a loud "DING"

Requires no battery or electricity

All parts included/with drill bit and instructions

Works on outswing or inswing doors

It mounts on top of the door frame

Dimensions: 5 ¾" W X 2" H X 2 ¾" D

Manual Shut off of chime sound

Sound is directed into a room or area and is effective up to 3,500 sq. ft.

3-year Warranty
If you're a store owner looking to track when customers enter your establishment, the No Batteries Entry Door Chime, also known as EZ Chime or E-Z tone, is a perfect solution. When a monitored door is opened, this device emits a simple "ding" sound without the need for wires, electricity, or batteries. These products are commonly used in commercial buildings worldwide, including delis and gas stations. The EZ Chime is an effortless, maintenance-free entry door alarm sensor well-suited for smaller shops and businesses. Installation is simple and straightforward.
This product is a popular choice for businesses, gas stations, convenience stores, and other retail locations that seek a reliable entrance alert that doesn't require wires or batteries. It can be easily installed on the door frame with a small magnet mounted on the door. The chime box has a plunger with a metal end that sticks to the magnet when the door is closed. When the door is opened, the plunger is pulled until the magnet's force can no longer hold it, causing the plunger to retract and strike a metal plate inside the box, creating a soft yet audible "ding" sound. This entrance alert is particularly suitable for areas with up to 2,000 square feet. 
This product is a popular choice for those seeking a hassle-free entry alert that does not require batteries, wiring, or electricity to function. It is a maintenance-free option and available at an affordable price, making it a standout product. It is not recommended for larger areas exceeding 2,000 square feet as it is not particularly loud, emitting a soft "ding" sound. However, it works perfectly in smaller retail locations such as gas stations, fast food restaurants, or small offices, where the sound can be easily heard.
The EZ Chime Door Chime Entrance Alert, also known as EZ Tone, is a top-selling product that produces a sound loud enough to be heard in stores or offices up to 2,000 square feet in size. It's a favorite among customers, including professional offices nationwide and popular chains like Subway, Blockbuster, Winn-Dixie, US Postal Service, KFC, Dollar General Stores, and Little Caesars. The EZ Chime is virtually identical to the Entry Door Chime and can typically be installed in 15 minutes. Furthermore, it has a long-lasting and maintenance-free lifespan.
This mechanical door chime alert is designed for doors that are usually kept closed. When the door is opened, the device's chime function is activated. The unit has a striking pen that is connected to a small doughnut-shaped magnet that is screwed into the door. As the door is opened, the pen is pulled by a spring until it is released from the magnet. The spring's force causes the pen to strike a small metal plate inside the unit, creating the chime sound.