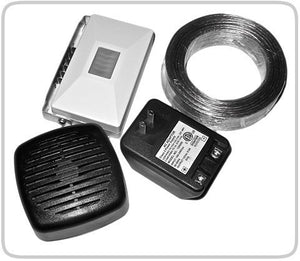 The Rodann AV200 hardwired door chime plugs into an electrical outlet and never needs batteries. This doorbell system will alert you with a sound whenever someone passes through the infrared sensor. Great for retail stores, this unit has proved reliable in high traffic locations and holds up well over many years. Keep your staff well informed of walk-in traffic to prevent theft or provide excellent customer service! Made in the USA.
Package Includes:
Motion Sensor
Speaker
50 ft Connection Wire
Power Supply (16.5 volt)
Mounting Bracket
Instruction Manual
Features Include:
Powered by economical 12V dc, plug-in-AC adapter (no batteries to change)

Operates several chimes, buzzers, or bells

Universal mounting bracket allows for easy ceiling, wall, or side mounting

Fully automatic and maintenance free (no reflectors or controls to align)

Uncomplicated wiring, installs in minutes

Helps control theft

One-year warranty
Sounds:
Ding
Ding-Dong
The Rodann AV200 now comes with volume control and two different alert sounds to choose from. Sound options are: Single and Dual tone. (Ding and Ding-Dong)
If you need to hear your door chime in multiple locations, this unit can power up to three speakers with additional wire and amp upgrades. You can find these upgrades via the drop-down at the top of this page. You can always call us to get a professional option on the best set-up for your unique situation.
This door chime's infrared technology prevents false alerts from reflections, shadows, or bright lights. Great for open or closed doorways. This type of sensor is superior to beam-type sensors. Infrared sensors do not rely on reflectors which are susceptible to becoming misaligned and triggered by sunlight. We recommend infrared rather than beam-type sensors in order to ensure the highest possible accuracy and reliability. 
Installation:
This unit is designed to be easy to install for anyone
If you require assistance or have questions about installation, we would be happy to help! Please give us a call to discuss the best options for you. 
Rodann AV-200 Instruction Manual
ID: ADC-20